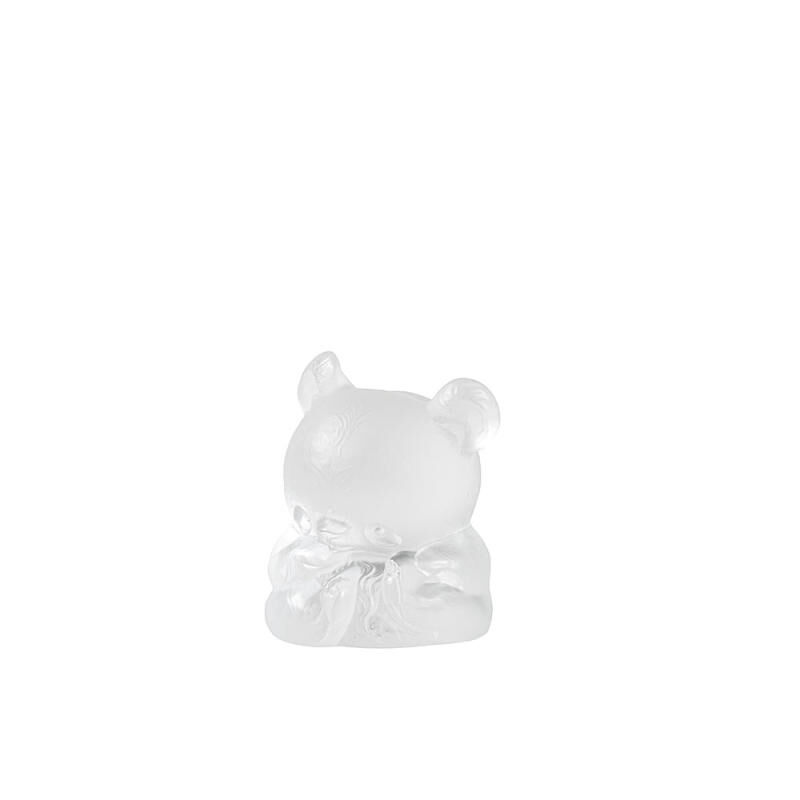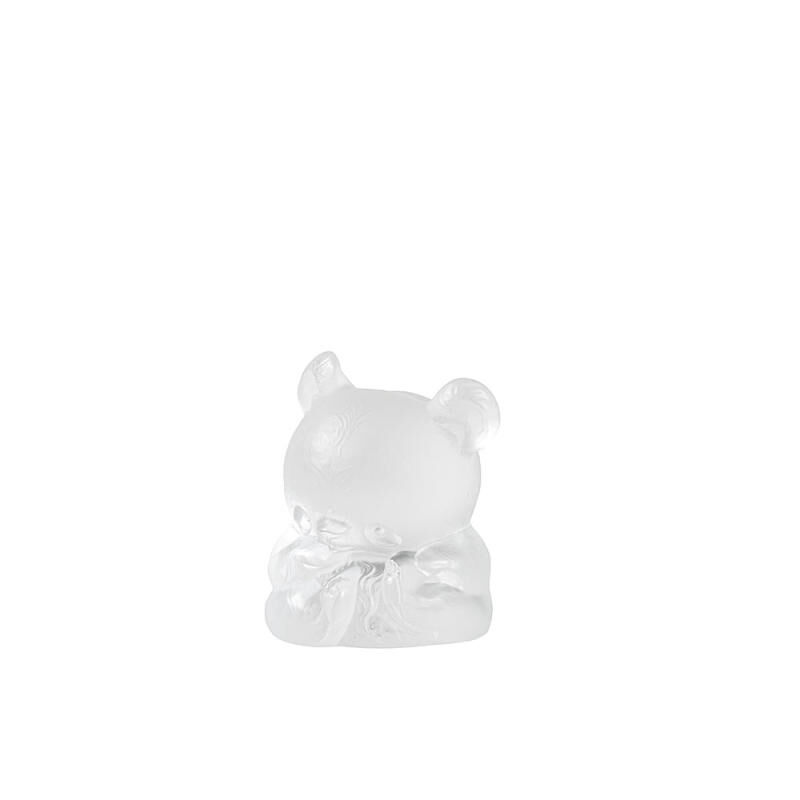 Yuan-Yuan The Panda By Han Meilin
There is a sense of tenderness that emanates from his rounded, mischievous figures. He captures a moment of life in the wild, a grooming gesture or a frolic on the ground. His gaze is open, the eyes soft and sparkling. The newborn from the Lalique crystal factory, Yuan-Yuan and Meng-Meng, a seated male and a prone female, are both products of Han Meilin's fertile imagination. With an innocence that belies his 82 years, the Chinese artist marvels at the world through the eyes of a child. He grooms, sketches and models animals for the most part: dogs, cats, tigers, monkeys and the like. He draws his inspiration from a solid grounding in traditional Chinese culture, ranging from his fascination with ancient characters to cave painting, by way of folklore, traditional textiles and clay sculpture. "The national character is the root of my work," says the artist who has spent several decades collecting inscriptions, marks and symbols from all over China. A fragile species, mentioned in ancient Chinese texts 3000 years ago, the panda reigns majestically over Han Meilin's artistic repertoireIn 2019, the savoir-faire of Lalique's artisans, enabled him to fashion two of his beasts in pure crystal. Offered as diplomatic gifts in token of friendship since the Tang dynasty, the panda is the ultimate symbol of the bonds that link China and France.
Lalique
Yuan-Yuan The Panda By Han Meilin
Coming Soon!
Be notified when available.
Product Information
Design Details
Dimension:
H 4.72 in x L 4.02 in x W 3.70 in
About the brand
Lalique
The name Lalique conjures the delicacy of transparency, the brilliance of jewelry, and the dazzling glow of crystal. It was founded over a century ago in1888 by Rene-Jules Lalique, a genius artist who shared his creative flame in a mesmerizing way. Lalique has sustained as the eventual symbol of French luxury.
Nowadays, the vision of the brand is to expand by creating amazing perfume bottles in crystal, reviving exquisite and subtle jewelry designs, crafting a unique Lalique world dedicated to the home, and working with distinguished artists, to produce limited editions in crystal so as to recreate its cultural heritage and value. Lalique continues to prosper as an iconic timeless lifestyle brand.
Delivery and returns
Free delivery within 2 days across Kuwait
For any concerns, please contact our customer care on:
[email protected] or +971501893270
Find out more about our RETURNS
Product code:
018914865124